2020 Moonbeam Award Winners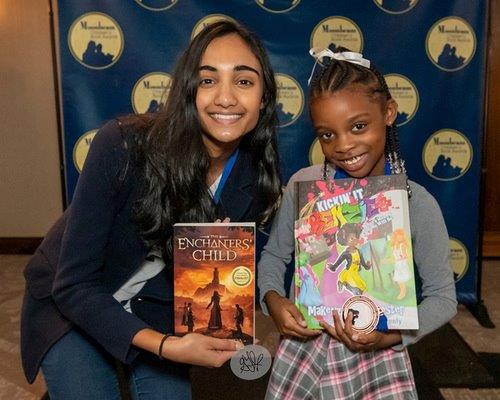 Jenkins Group is proud to announce the winners of the 2020 Moonbeam Children's Book Awards. Launched in 2007, the awards are intended to bring increased recognition to exemplary children's books and their creators, and to celebrate children's books and life-long reading. Congratulations to all 153 of the winners!
Listed below on results page one are the Moonbeam Spirit Award winners and the first 30 Moonbeam Awards print category winners, followed on page two by categories 31-41 and the ebook category winners.
Medalists were chosen from 1,140 total entries, and the medalists reprepresent 36 U.S. states plus D.C. 4 Canadian provinces, and 7 countries overseas.
Creating books that inspire our children to read, to learn, and to dream is an extremely important task, and these awards were conceived to reward those efforts. Each year's entries are judged by expert panels of youth educators, students, librarians, booksellers, and book reviewers of all ages. Award recipients receive gold, silver and bronze medals and stickers depicting a mother and child reading and silhouetted by a full moon.
Click here to go to results page two, with categories 30-41.
Click here to go to the Ebook categories.
Click here to visit the 2020 Moonbeam medalist and press page, where you'll find the official results announcement press release and links to artwork, blurbs and other information.
Click here to visit the Moonbeam merchandise page.
---
MOONBEAM SPIRIT AWARDS
A handful of standouts are chosen each year for their dedication to children's literacy and for inspired writing, illustrating and publishing. This year we chose books in five different areas. All recipients will receive gold medals.

Compassion
Sister Butterfly: An Illustrated Story with Songs about Inclusion, Belonging, and Compassion, by Mike Mirabella; illustrated by Amy O'Hanlon (Mirabella Books)
"You can look among the flowers
but I doubt if she'll be found,
She'll be sitting in a corner or
fluttering on the ground.
She isn't polished in her ways,
nor graceful like a dancer,
But she can ask you questions
for which there are no given answers."
Preservation
Omar, el jaguar, written and illustrated by Andrea Olatunji (Self-Published)
"Although we are different, this is our home. We have to work together to be able to take care of it, and even with our differences, to improve it."
Exploration
ABC Adventures with Fuzzlewump and Grizzlegrump, by Sara Galm; illustrated by Brian Schmidt (Beaver's Pond Press)

"N is for navigating dangerous lands.
O is for orbiting space, holding hands."
Activism
Young Kap: I Know My Rights, by Kingsley Osei; illustrated by Elaine Davis (International Publications Media Group)
"Young Kap has impacted the lives of all his friends and people around him. He's a leader whom many people adore and teaches all to know their civil rights. Long Live Young Kap!"
Mindfulness
Finding Om, by Rashmi Bismark; illustrated by Morgan Huff (Mango & Marigold Press)

"Vibrations made by the sounds of a mantra are like music. The rhythm and song connect you to the mantra's meaning. Your mind, body, heart, and spirit sing in harmony."
MOONBEAM AWARD PRINT CATEGORIES
1. Board Book / Cloth Book

GOLD: I Love You Bigger Than the Sky, by Michelle Medlock Adams (Worthykids/Hachette Book Group)

SILVER: Baby Carrot, by Terri Saville-Sewell (Xlibris)

BRONZE: Fingerpaintin', by Terry Jackson; illustrated by Jason Fowler (Terry Jackson)
2. Alphabet / Counting Book

GOLD: Animals Are Everywhere, by Mike Costa (Summit Studios Press)

SILVER: Pirates Stuck at "C", by Brooke Van Sickle; illustrated by Gabriela Dieppa (BiblioKid Publishing)

BRONZE: A-B-Skis: An Alphabet Book About the Magical World of Skiing, by Libby Ludlow; Illustrated by Nathan Y Jarvis (Libby Ludlow, LLC)


3. Book Arts / Pop-up / Cut-out

GOLD: Flora: A Botanical Pop-Up Book, Paper Engineering by Yoojin Kim; Illustration by Kathryn Selbert; text by Nicole Yen (Jumping Jack Press)

SILVER: The Easter Unicorn: A Magical Pop-Up Book, Paper Engineering by Renee Jablow; Illustration by Rebecca Jones; text by Janet Lawler (Jumping Jack Press)

BRONZE: Language Adventures: A Funny Day at the Zoo; by Michelle Glorieux; Illustrated by Kelsey Suan (TA-DA! Language Productions)





4. Activity Book 1 – Games, Arts & Crafts, etc.

GOLD: Glacier National Park Educational Coloring Book, by Becca Snyder (Glacier National Park Conservancy)

SILVER: Color Your World: A Walk in the Woods, by Monica Wellington (Dover Publications)

BRONZE: Flutter, Bye, by Krista Betcher (Beaver's Pond Press)








5. Activity Book 2 – Educational, Science, History

GOLD: Stamp Your Way Through the USA, by Emily Matheny, Mary O'Hare, Rose Storey (Stamp Your Way)








SILVER: My First Book About Genetics, by Donald M. Silver and Patricia J. Wynne (Dover Publications)

BRONZE: Spies, Code Breakers, and Secret Agents: A World War II Book for Kids, by Carole P. Roman (Rock Ridge Press)







6. Best Illustrator

GOLD: Umijoo: The Wondrous Tale of a Curious Girl and Her Journey Under the Sea, by Casson Trenor; illustrated by Caia Koopman (Shark & Siren Press)







SILVER (tie): The Big Old Rambutan Tree, by Kathy Creamer (Little Pink Dog Books)
A Mystery in the Forest, by Susanna Isern; illustrated by Daniel Montero Galán (Cuento de Luz)

BRONZE: The Tiger in My Yard, Written and illustrated by Yuke Li (Self-Published)

7. Picture Book – Preschool

GOLD: Feeling Special, by Jennifer Kurani; illustrated by Valentina Jaskina (Sky Pony Press)









SILVER: Oh Brother, Little Brother, by Candid Brandon; Illustrated by Alexandra Tatu (Brandon Publishing)

BRONZE: Good Night Baby, Baby, by Cindy Similien; illustrated by Jeric Tan (CSJ Media Publishing)
8. Picture Book – 4-8 Year Old

GOLD: Don't Let the Beasties Escape This Book!, by Julie Berry; illustrated by April Lee (Getty Publications)

SILVER (tie): Bob in a Box, Written and illustrated by Joe Jamaldinian (JoeJ Productions)
Fly, Fly Again, by Katie Jaffe & Jennifer Lawson; illustrated by Tammie Lyon (Greenleaf Book Group Press)

BRONZE: The Dirt Girl, Written and illustrated by Jodie Dee (Jodi Dee Publishing)




9. Picture Book – All Ages

GOLD: Willa's House, by David Booth; illustrated by Renia Metallinou (Plumleaf Press)

SILVER: Millie and the Warm Wind, by Jenna Winship; illustrated by Rachel Eleanor (Redemption Press)

BRONZE (tie): To The Ends of the Earth, by Sharon Thayer; illustrated by Reuben McHugh and Andrew Smith (Carousel Publishing)

Ivan the Stupid and Ivania the Klutz, by Pat Hall; illustrated by Rachael Balsaitis (Crow's Foot Books)

10. Juvenile Fiction – Early Reader / First Chapter Books

GOLD: Código 7: Descifrando el código para una vida épica (La edición en español y inglés); Code 7: Cracking the Code for an Epic Life (English-Spanish Bilingual Edition), by Bryan R. Johnson (Candy Wrapper)

SILVER: Mystery in Bethlehem (Bell Tower Adventures #1), by Cole Blumer and Susanne Blumer (Bell Tower Bible)
BRONZE: Surf Angel: Legend of the Pink Dolphin, by Terry Kraszewski & Heather Dawn Kraszewski; illustrated by Bonnie Bright (Surf Angel Publications)

11. Pre-Teen Fiction – General
GOLD: Joss, by Erin Falligant (American GIrl)

SILVER (tie): The Fifth Favorite, by Gale Sears (Crosslink)

Leo Gray and the Lunar Eclipse, by K.J. Kruk (Greenleaf Book Group Press)

BRONZE: Selah's Stolen Dream, by Susan Count (Hastings Creations Group)

12. Pre-Teen Fiction – Fantasy

GOLD (tie): The Words of the Wandering (The Crowns of Croswald Book III), by D.E. Night (Stories Untold Press)
Unwritten, by Tara Gilboy (North Star Editions)

SILVER: Dwarf Story, by Professor W. W. Marplot (Waxing Gibbous Books)

BRONZE: Excerpts From An Unknown Guidebook Book 2: Cave in the Rock, by Josef Bastian (Folkteller)

13. Pre-Teen Fiction – Mystery

GOLD: Nutmeg Street: Egyptian Secrets, by Sherrill Joseph (Acorn Publishing)

SILVER: The Sea Turtle's Curse: A Delta & Jax Mystery, by Susan Diamond Riley (KoehlerBooks)

BRONZE (tie): Puppy Ciao, by Annette O'Hare (Elk Lake Publishing, Inc.)

The Mystery of the Painted Book: Pen & Quin:International Agents of Intrigue Book 1, by KS Mitchell (Vinspire Publishing)

14. Pre-Teen Fiction – Historical / Cultural

GOLD: Gidjie and the Wolves, by Tashia Hart (Not Too Far Removed Press)

SILVER: Beatrice On Her Own, by Rosemary Zibart (Artemesia Publishing)

BRONZE: Red Dove, Listen to the Wind, by Sonia Antaki (Red Chair Press)








15. Pre-Teen Fiction – Mature Issues

GOLD: Fly Back, Agnes, by Elizabeth Atkinson (Carolrhoda)

SILVER: Swallowed by a Secret, by Risa Nyman (Immortal Works)

BRONZE: Corona Island, by Johanna Sweet (Penobscot Books)

16. Young Adult Fiction – General

GOLD: Chasing the Sun, by Melanie Hooyenga (Left-Handed Mitten Publications)











SILVER (tie): The Best Week that Never Happened, by Dallas Woodburn (Month9Boooks)

When We Vanished, by Alanna Peterson (Rootcity Press)








BRONZE: Dare Accepted, by D.A. Reed (Self-Published)








17. Young Adult Fiction – Fantasy / Sci-Fi

GOLD (tie): The Return of the Dragon Queen, by Farah Oomerbhoy (Wise Ink)

Seeker, by Kim Chance (Flux)


SILVER: Fyrian's Fire, by Emily H. Jeffries (Girl Friday)

BRONZE (tie): Inside the Sun: Book Three in The 8th Island Trilogy, by Alexis Marie Chute (Spark Press)

Heartmender, by V. Romas Burton (Monster Ivy Publishing)






18. Young Adult Fiction – Horror / Mystery / Supernatural

GOLD: Shadow in the Dark, by Antony Barone Kolenc (Loyola Press)

SILVER: The Weight of a Soul, by Elizabeth Tammi (Flux)

BRONZE: The Red Labyrinth, by Meredith Tate (Flux)








19. Young Adult Fiction – Historical / Cultural

GOLD: Across A Broken Shore, by Amy Trueblood (Flux)

SILVER: A Wounded Deer Leaps Highest, by C.P. Mangel (Eyewear Publishing)

BRONZE: Teddy Roosevelt, Millie, and the Elegant Ride, by Jean M. Flahive (Philip W. Morse)





20. Young Adult Fiction – Religion / Spirituality

GOLD: Blaze, by Hope Bolinger (IlluminateYA)

SILVER: Shards of Light, by Susan Miura (Vinspire Publishing)

BRONZE: Sticks and Stones, by Dianne Beck (Acorn Publishing)









21. Young Adult Fiction – Mature Issues

GOLD: The Quiet You Carry, by Nikki Barthelmess (Flux)

SILVER: Tinfoil Crowns, by Erin Jones (Flux)

BRONZE: Memorable, by Laurisa White Reyes (Skyrocket Press)








22. Poetry
GOLD: One Trillion Bright Futures, written and illustrated by Kellen Pierson (Pine Grove Media)

SILVER: Chuckles and Smiles, by Raven Howell; illustrated by Jordan Wray (Warren Publishing)

BRONZE: Bathing Kitty and Other Mischievous Poems, by L.W. Lewiss; illustrated by Marta Capdevila (Mascot Books)






23. Non-Fiction – Picture Book

GOLD: Beijing: A Symmetrical City, written and illustrated by Dawu Yu; adapted by Yan Liu; translated by Crystal Tai (1 Plus Books)

SILVER: When Phillis Wheatley Was Young, by Victoria Holder; illustrated by Eunae Jo (English EGG)

BRONZE: Willy and Lilly's Adventures with Weather, by Jennifer Stanonis; illustrated by Bill Blenk (Crisscross Applesauce)






24. Non-Fiction – Chapter Book

GOLD: Stand Up! Be an Upstander and Make a Difference, by Wendy L. Moss, PhD (Magination Press)

SILVER: Making a Difference: Using Your Talents and Passions to Change the World, by Melissa Seymour; illustrated by Stevie Lewis (American Girl Publishing)

BRONZE: Hugh Armstrong Robinson: The Story of Flying Lucky 13, by Billie Holladay Skelley; illustrated by Rachel Bowman (Goldminds Publishing)







25. Animals / Pets - Fiction

GOLD: ME-NOW: The Adventures of Mickey The Mushing Cat, by Leon Mensch (Relevant Publishers LLC)

SILVER: From Wild to Mild: A Dog in Two Worlds, by Sunny Weber (Pups & Purrs Press)

BRONZE: Gus Finds His Way Home, by Karen Nicksich; illustrated by Steph Bucci (Self-Published)







26. Animals/Pets Non-Fiction
GOLD: Our Animal Neighbors: Compassion for Every Furry, Slimy, Prickly Creature on Earth, by Matthieu Ricard and Jason Gruhl; illustration by Becca Hall (Shambhala Publications)






SILVER (tie): Please Love Me Like I Love You, by Kip Fechner; illustrated by Janis Ullrich Dillon (Self-Published)

Ivy the Very Determined Dog, by Chris & Maureen Harrington; illustrated by Charlotte Bruijn (Bromfield Press)


BRONZE: Fuzzy the Eagle: The True Story of an Eaglet's Journey to Freedom, by Tracy L. Mikowski with Lisa Wamsley; illustrated by P.M. Richard (Talking Crow Publishing)






27. Multicultural Non-Fiction

GOLD: Be Bold! Be Brave!: 11 Latinas who made U.S. History, by Naibe Renoso; Illustrated by Jone Leal (Con Todo Press)

SILVER: Passion and Purpose: Black Female Surgeons, edited by Dr. Praise Matemavi (A2Z Press)

BRONZE: Learning Culture through Reciting and Singing Classic Poems, by Dr. Xiaokang Zhou; Translated by Xiaokang Zhou and T. Gourdon (Peking University Press)



28. Comic/Graphic Novel
GOLD: Stonebreaker, by Peter Wartman (Uncivilized Books)

SILVER: Once & Future: Finest Hour, by Brian Donnelly; Art by Jean Pedroso and Ed Dukeshire (Mythographer's Workshop)






BRONZE: Galileo! Galileo!, by Holly Trechter and Jane Donovan (Sky Candle Press)











Click Here for categories 29 - 38